FDL-S120 GSM Alarm System
A Top Safety and Protection Solution In The Worldwide!
Name: GSM SMS SECURITY ALARM
Model: FDL-S120
The GSM SMS Security Alarm FDL-S120 with multi-functions. It integrated GSM Module inside, and almost all useful functions and features of the alarm systems in the worldwide markets. Also it with innovative and experienced functions and features to meet the required and potential demands.
The GSM SMS Security Alarm FDL-S120 is a User-Friendly concept and new security protection solution special for Residential areas, business area, commercial area, office, factory, industrial area and other Varity applications.
The GSM SMS Security Alarm inbuilt one reliable quad-band GSM Module, integrated high performance MCU inside, includes lots of safety protection required functions, and lots of potential demands for safety protection applications, and integrated the User-Friendly Human-Machine Interface design and easy-to-use concepts.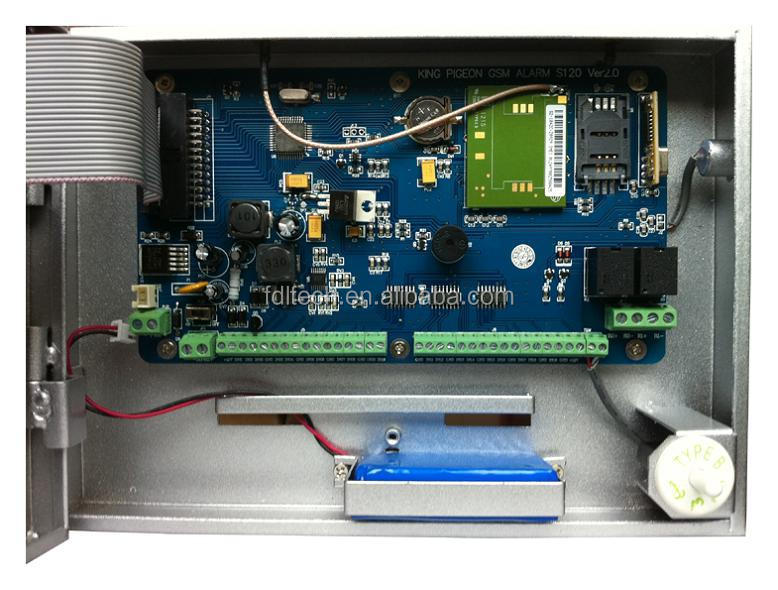 The GSM SMS Security Alarm FDL-S120 is very suitable to remotely monitoring assets from theft-against, safety condition detection, switch on or off electric equipments by simple SMS Commands from worldwide, no distance limitation.
The user can receive SMS Text and incoming from the FDL-S120 once the alarm occurrence. Also, the user can remotely switch ON or OFF the electric equipments on-site by SMS Commands. Moreover, the user can call in the FDL-S120 to listen in or create two way voice communication with the person on-site.
Moreover, the FDL-S120 supports Android Apps, though the Android Apps, the user can quickly to Arm, Disarm, Inquiry Status and Switch ON or OFF equipments no need to program the SMS commands every time.
Functions & Features of the GSM SMS Security Alarm:
GSM Frequency: 850/900/1800/1900Mhz;
LCD displays the entire setup menu, user friendly concept to make it easily to setup;
Using ICON to display Armed(Away), Partial Armed(At House or Stay), Disarmed, Power status and GSM Signal status;
User friendly Icons for LED indicators, Functional Buttons;
Supports Away Armed, Partial Armed(At House or Stay) or Disarmed, Schedule Armed and Schedule Disarmed;
Supports Android Apps, quickly to Arm, Disarm, Inquiry Status and Switch ON or OFF equipments;
Supports 3 SMS Alarm Numbers, 5 Autodial Numbers and 100 Alarm Records for owner review;
Supports Two-way Voice communication and listen on-site through internal sensitive microphone and speaker;
Automatically send SMS Alert Alarm Message and dial to the pre-set numbers when alarm occurrence;
Supports Armed, Disarmed, Inquiry Status, Switch ON or OFF relay output by SMS Commands;
Learning code, more safe and easy to add new wireless remote keys and wireless detectors;
Supports 16 Wireless Zones, can accept one learning code wireless detector in each zone, and accept unlimited PT2262/2272 fixed code wireless detectors in each zone;
Supports 20 wired zones(Dry Contact Type), the input can be Normal Close(NC), Normal Open(NO), and End of Line(EOL), the EOL is very useful to avoid the wires disconnection and willful or malicious destruction the detector connections;
Supports varity zone attributes, includes Away(normal), At House or Stay, 24 Hours Zone, Watchdog Zone, SOS Zone;
The attribute of each zone is programmable by LCD Menu;
The Zone Name of each zone is programmable by user through SMS Commands;
Supports 5 Remote Keys, each Remote Key includes one SOS Panic Button for emergency condition to ask for help;
Automatically send SMS to users while armed and disarm by remote key, this function can enable or disable by user;
Supports Armed delay to give enough time to leave the home, the delay time is programmable by user;
Supports Alarm Delay to give enough time to Disarm it when you come back home, the delay time is programmable by user;
Equips with 1 Alarm-Link relay output, once alarm occurrence, this relay output will automatically switch on for 4 minutes, it is useful to be used as a loudly sound siren or switch on the light or as the digital input for the CCTV;
Equips with 1 SMS Command control separate relay output, it can be switch on or off by SMS Commands. This is very useful for remote switch on light or off while you're in another city in the night;
Equips one siren output for sounding while alarm occurrence to warning.
The Keypad can be used as a telephone dialer;
The external AC power failure & recovery alert function supports 3 optional: Don't Care, Immediately Send SMS to user, after 30 minutes if not recovery then send SMS to user;
Supports Self-Checking to ensure the SIMCard can communication properly;
Supports GSM Signal Jammer to increase the ability to theft against;
Standby internal large capacity rechargeable battery which can standby upto 18 hours after AC Power failure, also can provide power to wired detectors and siren after AC power failure;
Backup battery with low voltage will send SMS to the owner immediately;
Equips two +12VDC power source from motherboard directly to save wiring cost and ensure the wired detectors can power on after AC power failure;
Equips with Tamper switch to protect the unauthorized open the panel;
Supports Password to increase the security of the whole system;
Based on the GSM communication network and Operation Menu Display technology, apply to wide range situations.
Standard Package list of the GSM SMS Security Alarm
Control Unit X1
Regulated 12VDC Power Supply X1
Remote Keys X 2
Wireless Door Contact X1
Key X 2
User Manual + Android Apps in CD X1
GSM Antenna X1