Peaktop Long Life Table Fountain Hydrponic Pump for Home Garden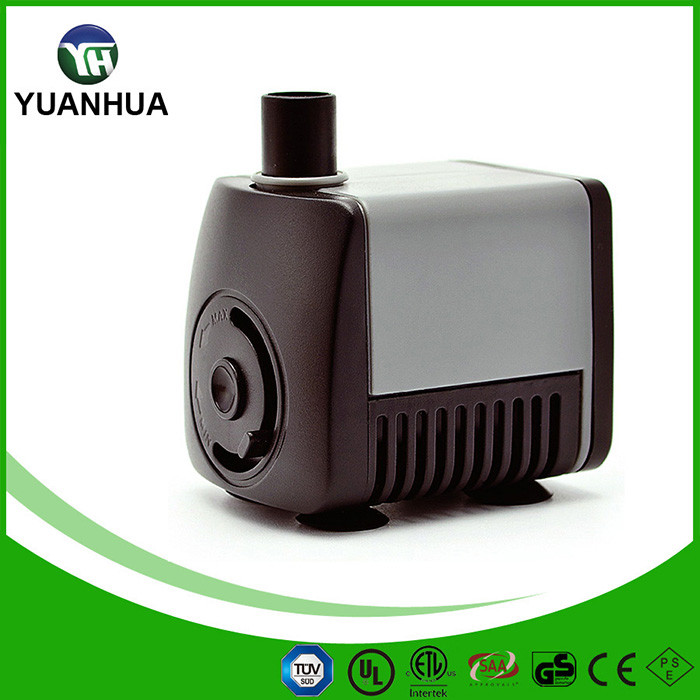 Product Description
Model No.
Voltage
Frequency
Power
Max Head
Max Flow Rate
Size(mm)
V
HZ
WATT
CM
L/H
L
W
H
PT-606
120
60
10
125
400
67
50
57
YH-606
220
50
7.5
100
350
67
50
57
Applications
1.Air cooler pump
2.Fountain, aquarium,pond
3.Pet fountain pump
4.Garden irrigation,garden landscapes
5.Hydroponic systems
6.Automobile circulation
7.Water circulation system
8.Coffee maker (Food grade item)
9.Ice machine(Food grade item)
10.Water dispenser (Food grade item)
11.Water heating mattress
12.Solar water pump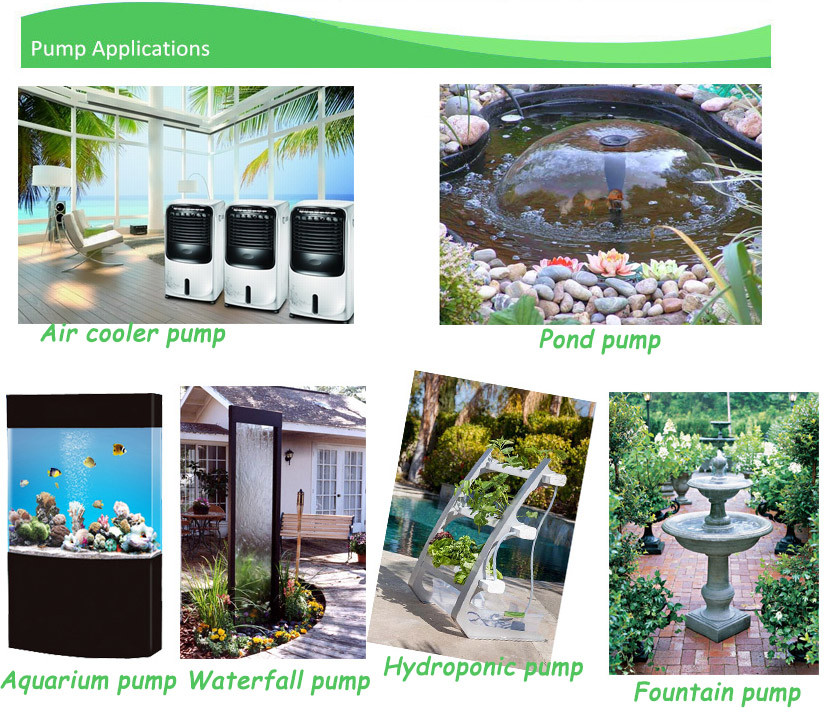 Our Advantages
1. we can offer the free customize sample; 2. the products with 100% copper motor, small size with high efficiency;
3. long life of products, over 2 years;
4. we are factory direct wolesale, it can make sure the delivery of the products;
5. we have the professional engineer to guarantee the quality;
6. we accept OEM and ODM;
7. We have got the certificates of UL/CE/SAA/PSE/BS/ROHS/ETL, it is more competitive not only in European market, but also in American market;

Certifications
Lowest water level while pump is running:

To clean the pump
Unplug the pump from electrical outlet.Use a small soft brush or place it under water stream to remove debris.
To keep water clean
Periodically change water to prevent water from becoming sticky and forming microorganisms.
Company Information
Fujian Yuanhua Pump Industry Co.,Ltd is mainly engaged in manufacturing micro submersible pumps widely used in nearly 20 industries including craft fountains, garden landscapes, garden irrigation, car pressurization, dispenser pressurization, farm water supply pressurization, mobile air conditioning,cooling fans, hydroponic cultivation, aquarium fish tanks,solar fountains and so on. Currently, we have two brands, "PEAKTOP"and "YUANHUA". Our products have obtained certificates such as CCC, CE, ROHS, BS,SAA, UL,PSE and KTL. With over 20 years of careful management, we've been the industry leader and the designated supplier of KMART and HOME DEPOT.