Product Description
Solvent-based Rubber Asphalt Waterproof Coating
Description
Solvent-based rubber asphalt waterproof coating is used high quality asphalt as raw material, and polymer rubber as modifier, dissolved by solvent, so as to make it to be a delicate, black, viscous liquid waterproof coating.
Advantages
1.No flowing in high temperature,no cracking in low temperature, and good adaptability;
2.The product has good adhesive property,crack resistance,excellent flexibility;
3. Good acid and alkali resistance, durable for chemical corrosion, anti-mildew,adapt to various weather condition;
4.Fast curing speed, can be at applied at room temperature and low temperature,easy tooperate;
<![if !supportLists]>5.<![endif]>The products do not contain benzene and other toxic solvents.
Where to use
1.Applicable to the general construction of the roof,and toilet,bath room, kitchen, and other projects' waterproof;
2. Apply to roof, basement, wall and other moisture;
3. Can be used for all kinds of pipe, concrete surface against corrosion.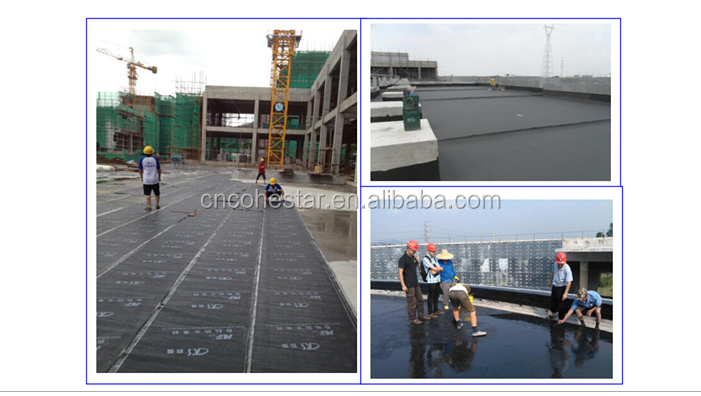 How to use
Key Points of Construction
1/ Requirements of substrate: the substrate should not be drenched by the rain over 48 hours, otherwise it must be dried for more than 48 hours before construction.
2/ treatment: Substrate must be clean, dry and solid, defects should be repaired in advance.
3/ Detail treatment: Brush internal and external corners and pipes with the coating first, then paving reinforcing layer (fiberglass fabric, non-woven fabric and so on). The reinforcing layer must be soaked completely by the coating.
4/ Scratch construction: scratch coating on substrate evenly. Each time interval for scratching subject to former layer coating are non hand sticky. Generally, substrate should be scratched 2 or 3 times, the direction of former and latter are vertical.
Technical sheet
Implemented Standard: JC/T852-1999
Item

Index

First choice

Qualified products

External looking

Delicate, black, viscous liquid

Solid content % ≥

48

Breakage resistance

Base crack, mm

0.3

0.2

Coating status

No crack

Low temperature flexibility,2h

-15℃

-10℃

No crack, no break

Adhesive,Mpa

0.20

Heat resistance,80℃,5h

No sliding, flowing, dripping

Impermeability, 0.2MPa, 30min

Impermeable
R&D center
Specification
| | |
| --- | --- |
| Packing | 17KGS/BUCKET |
| Recommend Usage | Usage for 1.0mm thickness coating is about 1.6kg/ m2 |
Storage and Shelf Life
It must be stored at cool and ventilated space. Keep away from fire and heat.
Shelf life: 12 months